Events, News & More
2021 Luncheons and Football Viewing
Posted: 8/13/2021
2021 Meetings and Luncheons are now being held the first Thursday of the month at: The Olive Garden Italian Restaurant,   5445 Sunrise Boulevard, Citrus Heights, CA 95610, Phone: (916) 965-9537
2021 Football Viewing now at TWIN Peaks, 535 Howe Ave, Sacramento, CA 95825, Phone: (916) 974-4370. The first two games are:
Navy/Marshall Sept 4, 2021 at 1230 PDT
Navy/ Air Force Sept 11, 2021 at 1230 PDT — Rumor has it that some Air Force folks may join us!
Letter From Chapter President Dennis Joyce
Posted: 7/5/2021
Sunday July 11, 2021,  2:00 P.M.
Mark the date, Sunday July 11th.  Brian and Debbie O'Hearn have invited all local parents and alumni to gather at their home,  time 2:00 pm.  Parents and alumni will have a brief meeting before dinner.  Alumni meeting will be a first step in waking up our chapter.  please RSVP how many will be attending .  text your reply to 916-425-5359 and ask if you can bring a food item to share with gang. Also ask for address and gate code
Football Viewing 2021
The Parents Club has invited us to join them for every game at the Twin Peaks Sports bar at 535 Howe Ave.  We will invite our Air Force and Army pals to join us for the big games
July Monthly Meeting
The July 2021 luncheon was held on July 1st at 1130 at the Olive Garden Italian Restaurant 5445 Sunrise Blvd.  John Haynes scouted it out and Jack Everet and I met there in June.  Topic of the July meeting was moving our chapter forward. About ten people attended.
Think about becoming active in chapter events this year.
Denny Joyce '61
916-996-1333
Letter From Chapter President Dennis Joyce
Posted: 5/10/2021
The past year has been an extended dark ages.  Our football TV viewing days with the parents were sparse and the covid screwed up our first Thursday of the month lunch meetings.  Now that we see light at the end of the tunnel, it may be time to look over the organization of the chapter and develop a five year plan for the future.  Our regular members are loyal but are "getting long in the tooth" and the 60's dominate.
I have been Sacramento Chapter President for 18 years and I am thinking it is time to pass on the job and at the same time generate some activity from the younger classes.  Our parents club rocks and we enjoy their company.  Our next real event  is on June 6th when we recognize the incoming plebes and their families. Save the date and email me if you are interested and I will forward details.  We have a tent at the Dante Club to accommodate a larger gathering.
I am off to my summer cottage for the next two weeks.  Send me an email if you are interested in chapter leadership or becoming more active.
Denny '61
John McKay '68 Podcast & Book Review
Posted: 3/6/2020
Link to the Break It Down Show Podcast of John McKay & Tim Macintosh-Smith:
John McKay has done several other podcasts on subjects as diverse as NATO in the former Yugoslavia; growing up in Latin America; Security Force Assistance Brigades (SFAB), among others.
_____________________________________________________________________________
The photo below is a link to John McKay's review of Tim Mackintosh-Smith's superb Arabs: A 3,000-Year History of Peoples, Tribes and Empires (2019), published in "The American Conservative"(TAC) magazine:
John McKay '68 Published in Gazette
Posted: 11/25/2019
Col John McKay USMC (Ret) '68 speech to Gold Star Families was published in the November 2019 Marine Corps Gazette. Snapshot of the article through link shown below. Or go to the Marine Corp Gazette to see the original copy.
Post from Dave McKie '66
Posted: 11/4/2019
Subject: Robert Brinzer USNA '01
For those of you in the Renaissance Society, Robert Brinzer, '01, will speak on Friday, November 8, as part of the Speaker Series on campus at California State University Sacramento. The series is presented each Friday, 1000-1130, in Alpine Hall, Room 204.
If you're not a member or perhaps aren't even aware of the Renaissance Society, you can obtain information about it at https://www.csus.edu/org/rensoc/
Following is the blurb in the online course listing.
Nov. 8: Robert Brinzer, US Navy SEAL
Robert is a Navy SEAL veteran with degrees from the U.S. Naval Academy and the George Washington University. Robert left the Navy in 2006 and now calls Sacramento home. He will talk about his SEAL training and his transition to civilian life.
Dave McKie '66
From Pres Denny Joyce
Football up, the chapter is happy. Every week we go to Players Sports Bar on Sunrise below Fair Oaks and enjoy the game with our parents club. Army alums will join us again for the big game on December 14th.
Thanks to Frank Blake '68 we now have a website here on the national chapter.
Our monthly meetings have been moving around as it seems as soon as we choose one restaurant, it closes. Our next meeting on first Thursday of the month (Nov 7th) at 1130 will be at Brookfields 4343 Madison Ave.
Finally, it is dues time again. Send your $20 to Jack Everett '64 at 1840 Starview Lane, Lincoln Ca 95648.
BEAT ARMY
Denny Joyce '61
Greetings from your Chapter President
Posted: 9/26/2019
September 26, 2019
We seem to be bringing bad luck to our monthly meeting venues.  First China Buffet closes and we move to Marie Callender's and they close.  On a trial basis Corky Guenter '61 has set us up to meet October 3rd at our usual 1130 time at the Folsom Veterans of Foreign Wars (VFW) Hall, located at 1300 Forest Street in Folsom.  Light lunch and private room.
We continue to watch football with the parents club at Players Sports Bar on Sunrise just of south Fair Oaks.  good food and good company.  As usual, the Air Force gang will join us on the 5th of October.
The chapter also now has a Facebook page that we are starting to use to put out the word. (A link is provided under 'External Links')
Beat Army
Denny Joyce'61
Sacramento Chapter Update
Posted: 8/31/2019
It's almost football time again.  We will watch all games again this year at the players sports bar on sunrise (just below fair oaks)  Joining us will be the parents club and of course for air force and army our brothers from Air Force and Army.
In July we enjoyed our summer picnic, hosted by parents club president Monica and Mike Fugit.  Grace Conlin 22 was our only mid and gave a good picture of life at USNA.  A happy camper with plebe year a passing memory. Also joining us was Frank Zalom '07.  He is an attorney and will be tasked with rounding up few young alumni in the area.
We are into a new membership year with 17 members paid already.  Stocking up money so we can host the new plebe lunch again this year.   Dues are only $20 and can be sent to Jack Everett '64  at 1840 Starview Lane, Lincoln CA 95648,
Our monthly meeting continue on first Thursday at 1130 at various restaurants around Sacramento
We have a lot of fun and hope to get more folks out to one of the games, we need all the help we can get for Army.
Denny Joyce
Sacramento Chapter President
Col John McKay Speech at Gold Star Event
Posted: 3/4/2019
Col John C. McKay, USMC(Ret), was the Guest of Honor at the annual California Gold Star Mothers/Parents Honor and Remembrance formal dinner given on Friday, 22 February 2019, at the Marine's Memorial Association and Foundation in San Francisco. The event consisted of over two hundred mothers, parents, spouses, and/or siblings who have lost immediate family members serving on active military duty at the time of their deaths.
Biography of COLONEL JOHN C. McKAY, USMC (Ret)
Fair Oaks, California
PRESENTING THIS YEAR'S AWARDS IS COLONEL JOHN MCKAY, UNITED STATES MARINE CORPS, RETIRED.
REARED IN LATIN AMERICA, AT AGE SEVENTEEN (17) COLONEL MCKAY ENLISTED IN THE UNITED STATES MARINE CORPS. HE WAS APPOINTED FROM THE RANKS TO THE U. S. NAVAL ACADEMY IN 1964. TWICE WOUNDED IN VIETNAM HE WAS RECOGNIZED FOR VALOR. NOT WITHSTANDING THE LOSS OF AN EYE HE REMAINED IN THE MARINE CORPS, COMMANDING INFANTRY UNITS AT EVERY RANK. AN OLMSTED SCHOLAR HE STUDIED TWO YEARS AT THE UNIVERSITY OF MADRID, SPAIN. HE WAS NAVAL ATTACHÉ IN EL SALVADOR DURING THE CIVIL WAR. HE SUBSEQUENTLY COMMANDED AND DEPLOYED A USMC INFANTRY BATTALION TO THE INDIAN OCEAN. HIS LAST COMMAND, AS A COLONEL, WAS JOINT TASK FORCE 160 (JTF-160) AT GUANTÁNAMO BAY, CUBA. IN THE LATTER CAPACITY HE NEGOTIATED DIRECTLY WITH THE COMMUNIST GOVERNMENT OF CUBA. WHILE ASSIGNED TO NATO HEADQUARTERS HE SERVED ON THE UN STAFF OF FRENCH GENERAL PHILIPPE MORILLON IN SARAJEVO. UPON RETIREMENT COLONEL MCKAY WORKED FOR THE CIA IN PALESTINE AND LATIN AMERICA. HE WAS SPECIAL ASSISTANT TO THE U. S. SPECIAL ENVOY FOR MIDDLE EAST REGIONAL SECURITY (IN JERUSALEM). HE RECENTLY FINISHED WORKING MÉXICO AND CENTRAL AMERICAN ISSUES FOR THE U. S. DRUG ENFORCEMENT ADMINISTRATION (DEA). SINCE 2016, HE HAS BEEN AN ADJUNCT PROFESSOR AT CALIFRONIA STATE UNIVERSITY, SACRAMENTO, LECTURING ON GEOGRAPHY OF LATIN AMERICA, AND ON GEOGRAPHIES OF THE MIDDLE EAST AND LEVANT. HE HOLDS MASTER DEGREES FROM GEORGETOWN UNIVERSITY AND THE NATIONAL WAR COLLEGE. COL MCKAY CONSULTS ON LATIN AMERICAN ISSUES AND CONTINUES TO WRITE ON SOCIAL, CURRENT, AND HISTORIC TOPICS. HE IS MARRIED TO THE FORMER MARGO PACE; THEY HAVE THREE SONS (ALL VETERANS).
 TEXT of Speech to Gold Star Famillies
(Copyright John C. McKay. All Rights Reserved)
THE MARINES' MEMORIAL CLUB
SAN FRANCISCO, CA
22 FEBRUARY 2019
ANNUAL CALIFORNIA GOLD STAR MOTHER'S HONOR AND REMEMBRANCE FORMAL DINNER
(Prepared, written, and presented by Colonel John C. McKAY, USMC (RET)) 
GUEST OF HONOR GOLD STAR PARENTS SPEECH
THANK YOU, GENERAL HULY. CONTRARY TO WHAT THE GENERAL HAS JUST RELATED, I WAS VERY KIND TO HIM WHEN HE VISITED ME AT HQMC. IN POINT OF FACT, I WAS KNOWN AS THE 'FRIENDLY INFANTRY MONITOR'!
GENERAL MYATT, YOUR EFFORTS AND SIGNIFICANCE IN MAKING THIS ALL-IMPORTANT EVENT POSSIBLE ARE BOTH RECOGNIZED AND DEEPLY APPRECIATED. THANK YOU, SIR.
GOLD STAR MOTHERS, GOLD STAR PARENTS, I AM HUMBLED BEFORE THE MAGNIFICENCE OF YOUR COURAGE AND FORTITUDE. YOU HAVE DONE ME A GREAT HONOR.
IN PEACE, CHILDREN INTER THEIR PARENTS; WAR VIOLATES THE ORDER OF NATURE AND CAUSES PARENTS TO INTER THEIR CHILDREN.
WE LIVE IN A SOCIETY THAT SKIRTS AROUND SPEAKING OF GRIEF, EVEN MORE SO, OF DEATH. ALL OF YOU ARE POIGNANTLY ENDURING ONE OF THE MOST TRAGIC EVENTS IN ANY PERSON'S LIFE. YOU ARE ALL IN A DARK, RAW PLACE. THE MEANINGLESS FLUTTER OF PLATITUDES, THE MISPLACED FOCUS OF AWKWARD PROFFERING OF CONDOLENCES IN THE GUISE OF OTHERS' OWN – ALMOST UNIVERSALLY MINOR – TRIALS AND TRIBULATIONS, MORE OFTEN THE FUMBLING OFFERINGS OF INSENSIBILITIES THAT NEITHER GRASP NOR CAN EVEN BEGIN TO APPRECIATE YOUR ACUTE PAIN. THESE GESTURES, WELL MEANING IN PRINCIPLE, OFFER SCANT RECOGNITION THAT YOU, ALL OF YOU, ARE IN AN UNKNOWN AND TERRIBLE TWILIGHT FROM WHICH YOU WILL NEVER ENTIRELY EMERGE. YOU ARE LITERALLY TRANSFORMED, FOREVER CHANGED. AND, LET'S BE HONEST, THE CHANGE IS LIFE LONG AND NOT ALWAYS PROPITIOUS. IT IS TRUE THAT SOME DEGREE OF REDEMPTION FROM, A COMING TO GRIPS OF SORTS WITH, THE MORTALITY OF YOUR DEARLY BELOVED; AND, YES, WITH YOUR VERY OWN MORTALITY, DOES OCCUR. THAT IS BUT MEAGER COMFORT, MUCH LESS ANY RECOMPENSE FOR, THE IRREPLACEABLE LOSSES YOU HAVE SUFFERED. YOU HAVE AN ABSOLUTE RIGHT TO WHATEVER YOU ARE FEELING, AND WHENEVER YOU ARE FEELING THOSE FEELINGS. IT IS CORRECTLY SAID, "TO WEEP IS TO MAKE LESS THE DEPTH OF GRIEF." ABSOLUTELY NO ONE CAN, NOR SHOULD THEY EVER TRY TO, DENY YOU YOUR DEPARTED LOVED ONES. THEY ARE THE CHILDREN YOU LOVINGLY BROUGHT INTO THE WORLD AND UNFAILINGLY STOOD BY, THE LOVED ONES YOU WILL FOREVER CHERISH, AND WHOM YOU SO LOVINGLY ADORED. EACH AND EVERY ONE OF THEM HAS BEEN VICIOUSLY RIPPED FROM YOUR ARMS, VIOLENTLY TORN FROM YOUR SIDES, UNFORGIVINGLY RENDERED FROM YOU FOREVER, PHYSICALLY REMOVED FROM YOUR UNDYING ADORATION, FROM AN INDISCERNIBLE EMOTIONAL AND PHYSICAL DEVOTION OF UNFATHOMABLE DEPTH. YOU ARE DRIVEN UPON YOUR KNEES BY THE OVERWHELMING CONVICTION THAT YOU HAVE NOWHERE TO GO. THE HEART OF GRIEF, ITS MOST DIFFICULT CHALLENGE, IS NOT "LETTING GO" OF THOSE WHO HAVE DIED BUT INSTEAD MAKING THE TRANSITION FROM LOVING IN THE PRESENT TO LOVING IN SEPARATION. IN BEING LOVED AND ALWAYS REMEMBERED THEY ARE FOREVER IN YOUR HEARTS. AND, FROM YOUR HEARTS YOU WILL EVERMORE SPEAK OF THEM.
I AM NO STRANGER TO THE LOSS OF LOVED ONES TO ABJECT VIOLENCE. NOR WILL I EVER BE UNBURDENED OF GRIEF. GRIEF IS UNIVERSAL. YET, AND YET, GRIEF IS SO INTIMATELY PERSONAL. HOW WE GRIEVE IS WHO WE ARE. AND, AS WERE YOUR LOVED ONES, WE, EACH AND EVERY ONE OF US PRESENT THIS EVENING, IS A UNIQUE INDIVIDUAL. AND, AS INDIVIDUALS WE GRIEVE INDIVIDUALLY, UNIQUELY, EACH WITHIN OUR OWN PRIVATE SOLITUDE. THAT DOES NOT ASSUAGE THE PAIN, THE REALITY OF ULTIMATE LOSS, BUT IT DOES GIVE DUE TO THE FACT WE ARE EACH HUMAN INDIVIDUALS. THE GRAVE POIGNANCY OF THE GRIEF SHARED WITHIN THIS ROOM PUTS ON VIVID DISPLAY THE INCREASINGLY RARE TYPE OF INDIVIDUAL YOUR LOVED ONES EMBODY AND REPRESENT – YES, I INTENTIONALLY USE THE PRESENT TENSE. FOR THEY HAVE DONE MORE, AND PAID THE ULTIMATE PRICE THROUGH THEIR SACRIFICE, IN UPHOLDING THE UNIVERSAL LEGITIMACY OF HUMANISM. INDIVIDUALS SUCH AS YOUR SONS, DAUGHTERS, SPOUSES, OR SIBLINGS AREN'T SUPPOSED TO EXIST ANYMORE, EXCEPT IN OUR HONEYED REMEMBRANCES OF THE SO CALLED GREATEST GENERATION. YOUR PRESENCE THIS EVENING PUTS A LIE TO THAT TALE. PERHAPS MORE IMPORTANTLY, OUR GATHERING TOGETHER ON THIS EVENING OF HONOR AND REMEMBRANCE UNAPOLOGETICALLY AND OPENLY DISPLAYS A COLLECTIVE EMBRACE OF THE CRITICALLY IMPORTANT SENSITIVITY OF SHARING THAT WHICH ALL BUT DEFIES SHARING.
THE VERY COMMEMORATING OF YOUR LOVED ONES LIVES PROVIDES A CLEAR MARKER OF THE SIGNIFICANCE OF EACH AND EVERY ONE OF THEIR SINGULAR PRESENCES ON THIS EARTH. THOUGH WE WALK TOGETHER DOWN AN UNPREDICTABLE, PAINFUL, DRAINING AND EXHAUSTING, PATH WE COLLECTIVELY SEEK HOPE.
WE SEEK THE COURAGE NOT TO FORSAKE HOPE. IN LOSS,
HOPE HIDES ITSELF. THROUGH OUR GATHERING TOGETHER THIS EVENING, COLLECTIVELY COMMEMORATING OUR LOSSES, WE ARE CHALLENGING HOPE TO ONCE AGAIN SHOW US THE WAY FORWARD. ALLOW STRENGTH FROM LIFE'S SURGES OF THE CRUELEST KIND, CASTE LIGHT UPON THE DARKNESS OF DESPAIR, THROUGH HOPE, FAITH, LOVE AND THE COMMON BOND OF THIS SHARED EVENING.   
I AM PRIVILEGED BEYOND DESCRIPTION TO HAVE SHARED A FEW MOMENTS WITH YOU. THANK YOU.
Photographs from the Annual Gold Star Mother's Honor and Remembrance Formal Dinner at the Marines' Memorial Club San Francisco, CA. 22 February 2019.
(Copyright 2019, All Rights Reserved, Marines' Memorial Association and Foundation and Colonel John C. McKay, USMC(Ret))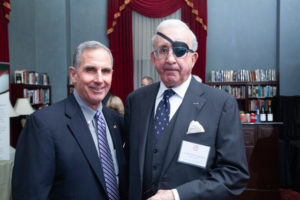 LtGen Jan Huly, USMC (Ret), President & CEO of the Marines' Memorial Association and Foundation: and, Colonel John C. McKAY, USMC (Ret), Guest of Honor, at California Gold Star Mothers' Honor and Remembrance evening reception, 21 February 2019.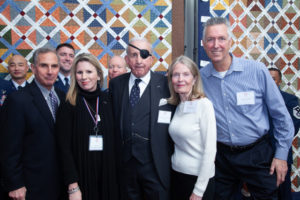 Colonel and Mrs. John C. McKAY, LtGen Jan Huly, USMC (Ret), evening reception, 21 February 2019.
California Gold Star Mothers at "A Celebration of Heroes", the National Cemetery, Presidio of San Francisco, 22 February 2019. One of the GSM's families has a service-member son interred at the Cemetery.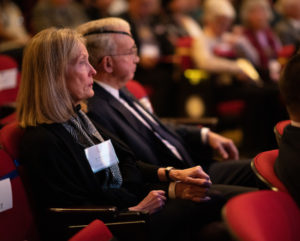 Colonel and Mrs (Margo) McKAY at the memorial service for the fallen, morning of 22 February 2029. Margo is on the Board of Blue Star Mothers, and is that organization's official liaison to the Gold Star Mothers.