The Sacramento Area Chapter Leadership
President            Terri (Riggs) Maginnis '82
Terri entered the Naval Academy from Murrysville, PA in July 1978 as part of the third class to admit women. During her four years at the Academy, Terri was an All-American swimmer and part of the first women's swim team to compete against (and Beat) Army.  She was commissioned into the Civil Engineer Corps (CEC) and served five years in Hawaii; first at Pearl Harbor Public Works Center and then a second tour at the Kanehoe Marine Corps Air Station as an Assistant Resident Officer in Charge of Construction.
She spent the next ten years as a general contractor construction manager on mostly military construction projects in both California and Hawaii. During the past 25 years, she has worked as an IT project manager for CalPERS, Oracle, Hewlett Packard, and more recently as a software consultant helping companies use project management solutions.
Terri has lived in Newcastle, CA since 1988 where she raised 4 children and 2 stepchildren. She remains active in swimming, hiking, and gardening and looks forward to connecting with other Academy graduates in the area.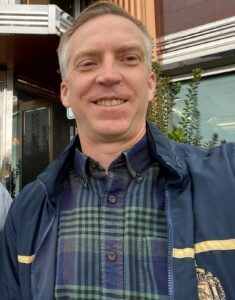 Vice President     Brian Grubbs '92
Brian entered the Naval Academy from Sacramento, CA.  He majored in Economics, played field ball (and other normal sports) and participated in the Airborne Training Unit.  He commissioned as a submarine officer serving on-board USS Finback (SSN 670), and shore duty at COMPSUBPAC and eventually joined the Naval Reserve in 2000 which resulted in a mobilization to Kuwait in 2008 and his retirement as a Captain in 2022.
Following active duty, he spent 7 years an an energy markets consultant working extensively on the California energy crises of 2001.  Since 2007 he has been a municipal advisor in the public finance industry focusing on utility clients.
Brian lives in Fair Oaks, CA where he raised his three children who all have joined the Navy as well.  He is married to Cheryl (Thomas) Grubbs who teaches 1st grade.  He enjoys home improvement, history and his 1987 Toyota 4Runner.
Corresponding Secretary
 Paul Deveaux '96
Treasurer
Alan Abbs '91
Distinguished Chapter Members
Col John C. McKay, USMC (RET) Class of 1968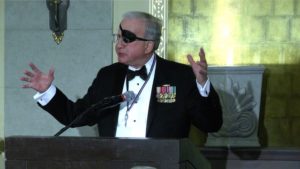 Colonel McKay was born in Denver, Colorado and reared in Latin America. He enlisted in the U.S. Marine Corps at age seventeen. He deployed with forward elements of the First Marine Division, slated to land in Cuba during the 1962 Cuban Missile Crisis. He received an appointment from the ranks in 1964 to the U.S. Naval Academy and after graduating in 1968, was commissioned into the  U.S. Marine Corps. He twice deployed to the Republic of Vietnam as an infantry officer, where he was wounded two times. Notwithstanding the loss of an eye, Colonel McKay remained in the Marine Corps as an infantry officer, commanding infantry units at every rank. He is an Olmsted Scholar, having studied at the University of Madrid, Spain, for two years. He holds advanced degrees from Georgetown University, and the National War College.
In and out of Uniform, Colonel McKay has served in three diplomatic postings. He was the United States first accredited Naval Attache to the Republic of El Salvador during the country's bitterly contested civil war. He has conducted formal negotiations with representatives of the Communist Government of Cuba, and the Palestinian Authority. Colonel McKay has conducted overseas counter-drug operations for the CIA and DEA. He is currently an Adjunct Professor at California State University, Sacramento.
Colonel McKay is fluent in Spanish and has a working knowledge of French. He is a published author. He is married to Margo C. McKay, nee Pace.  Colonel and Mrs. McKay's three sons are USMC and US Navy Veterans. Colonel and Mrs. McKay reside in Fair Oaks, California.